September 3, 2019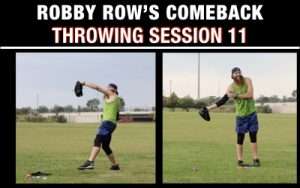 Scroll below to view Motus Sleeve Data, FitBit Data, eBooks, and Online Pitching Coach Options!
Today's Throwing Session video includes Long Toss at about 70-80% exertion which equals about 350 feet for me. This is not my 11th session after surgery. I lost count. lol.
Wanted to also let you guys know that my Online Throwing Program service is now LIVE! If you're somebody that doesn't quite know how to go about your throwing program then this is the service for you! Let me help you design a Program that gets you closer to your goals!
Sessions Data
Motus Sleeve Data
Purchase Motus Sleeve
Discount – "Robby10"
FitBit Data
Track Your Workouts
Work With Me
Content Creation Products
Discounted Baseball Products
My Personal Baseball Content
eBooks Available For Purchase
Common Mechanical Breakdown eBook
Plyo Ball Drills + Routines eBook
Baseball Strength Training Program
If you're interested in a Baseball Specific Strength Training Program Dr. Heenan offers an Online Training Service in which he assesses any deficiencies you may have and personally creates a workout program to help you become the athlete you've always wanted to be! The best part is.. I can save you $100 on the activation fee!
You will enter your email at the bottom of the page, you will then receive a follow up email with the final details of the program/on-boarding. Upon signing up use the code "robby" and you will receive $100 dollars off!
Subscribe To My Podcast
Also Available On
Created By
Care to Donate to the cause?
Robby Row's PayPal 4 Donations
FOLLOW ME