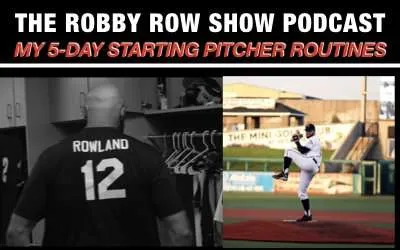 Wanted to put together a Podcast series in which I could further elaborate on everything that I do during a professional season on a 5-day Starting Pitcher routine. I will breakdown each day in detail of what I do as well as providing some context as to why I do them. Scroll below to view the other days!
Contact Me if you want any guidance on this subject for yourself
Velocity Development eBook
DAY 1 – START DAY
LISTEN ON THESE PODCAST APPS
DAY 2 – POST START DAY
LISTEN ON THESE PODCAST APPS
DAY 3 – STRETCH DAY
LISTEN ON THESE PODCAST APPS
Spotify
Work With Me
SPONSORS
Advanced Therapy Performance
Dr. Heenan Remote Programming 90 MPH Formula
Click Here To View My Training Sessions
Pocket Radar
Discount – "robby10" 
Frost Gear Baseball
Discount – "ROBBY10"
Pitch Logic
Discount – "ROBBY"
Oates Specialties
My Favorite Oates Specialties Products
Content Creation Products
Content To Checkout
Mic'd Up Throwing w/ Chris Harms
Subscribe To The Robby Row Show
QUESTIONS?
eBooks Available For Purchase
Discounted Baseball Products
ALL COMPANIES I'VE PARTNERED WITH
Instagram Q&A's
Care to Donate to the cause?
Robby Row's PayPal 4 Donations
Sign Up For Exclusive Baseball Content
Schedule A Consultation With Me
Robby Row's Consultation Service
Similar Podcasts To Checkout
Click below to find me on other platforms!