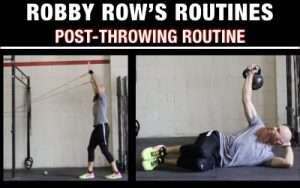 Below you'll see a typical "recovery" routine that I do after I'm done throwing. Now the video you see below will be done in a gym so sometimes I don't have some of the gym equipment you see in this video but I still find a way to get it done.
A lot of my post throwing routine will depend on the throwing volume for that day. If I threw a ton then I'm not going to absolutely blow it out in a recovery series. But remember, it's always about being mindful of your body and giving it what it needs. I've always been a guy that felt better the more that I did.
Any questions feel free to Contact Me.
Work With Me
eBooks Available For Purchase
Content Creation Products
Discounted Baseball Products
FOLLOW ME
Subscribe To My Podcast
Post Created By
Care to Donate to the cause?