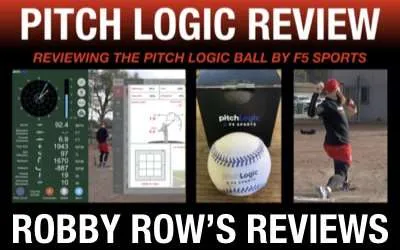 Today I'll be comparing and reviewing The Pitch Logic Baseball By F5 Sports. In the videos I will be comparing the Pitch Logic Baseball to The Rapsodo Pitching Unit 2.0 then giving my honest review of the product! See links below to claim a Rebate Code on the Pitch Logic Baseball as well as more Pitch Logic Footage! 
Register Here for FREE Content delivered to your email so you don't miss a beat!
Pitch Logic By F5 Sports
Rebate Code – "ROBBY"
Pitch Logic vs Rapsodo
Pitch Logic Baseball Review
Pitch Logic Footage
More Reviews + Discounts
Work With Me
Develop Velocity
Analysis Service Previews
Creating Separation in Delivery 
Lead Leg Block – Mechanical Screening Preview
Content Creation Products
Discounted Baseball Products
Rob's Throwing Content
eBooks Available For Purchase
Subscribe To My Podcast
Created By
Care to Donate to the cause?
Robby Row's PayPal 4 Donations
FOLLOW ME