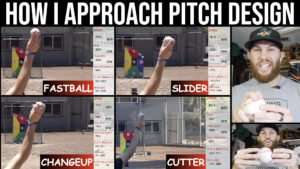 Pitch Design. A super popular term that's thrown around a lot in today's world of baseball. Funny to think what would someone say 10 years ago if you told them you were going to have a "Pitch Design" day. Well we know the game of baseball is evolving with the use of the technology at our disposal. And for me personally I frickin love it. Why? Because I, for one, love baseball/love pitching. And two, I love numbers and love the process of trying to figure out all the answers. I guess it's called naturally curious. So when it has to do with baseball.. more specifically has to do with pitching.. shoot I'm all in. If you enjoy this content be sure to Subscribe To My YouTube Channel for all the goodness!
Newest Pitch Design Podcast
Pitch Design
A brief background before we really dive into this thing. The whole data analytics scene couldn't of "popped" at a better time for me personally. I had just gotten injured and was going to miss a substantial amount of time from playing the game that I loved. (Read more about my journey here) But being the optimist that I am, I found that it was a great opportunity for me to dive into all this stuff to get an understanding for how I could not only improve my own craft but to also be able to educate others as they seek to improve their craft.. I mean that is the whole mission for me. I was able to network via Podcast with some leaders in the industry regarding data analytics such as Kyle Boddy, Jeremy Maschino, Dean Jackson, and Harold Mozingo.
In this breakdown you'll find a TON and I mean a TON of content regarding pitch design, data analytics, slow motion video, and more! I'll be including multiple breakdown videos, highlight videos, podcast episodes with individuals much smarter than me, and personal feedback as I embark on a quest to perfect a craft that is impossible to perfect! I'll also include a YouTube Playlist that features all of my Pitch Design Content for your viewing pleasure.
Let Me Help Improve Your Game
How I Approach Design
I want to start off by giving you a full breakdown of how I personally approach Pitch Design so you have a good idea of where I'm coming from when talking about it. In this video you'll hear me go over all of my pitches and what I'm looking for when pairing my Rapsodo Unit w/ my High Speed Camera. To view what camera I use click HERE.
Tools I Use
I'll provide a list of tools that I use that helps aid in my Pitch Design Sessions along with discount codes. Unfortunately I don't have a discount for Rapsodo but I do for Pitch Logic and Diamond Kinetics. For the high speed camera I will be using an affiliate link with amazon so I don't get a bit of a kick back if you decide to purchase. To view all my Partnerships + Discount Codes Click Here.
My Design Day
Here's a pretty long video that features my recent Pitch Design session all by myself. These are actually the most fun for me because I don't have to wait on anyone nor do I have to feel bad for throwing for hours on end. I'm using a Rapsodo unit hooked up to an external monitor. This session was focusing on putting some Fastball Spin Rate theories to the test, Fastball Vertical Movement, Hand Placement, Curveball Grips, Curveball Spin Efficiency, Curveball Tilt, and some light Splitter work. Enjoy.
Pairing FB+CT
For me this is the bread n butter. My 4 Seam Fastball + Cutter combination. In this video I'll be talking about what I look for when pairing these two pitches in a design session.
Pitch Design Playlist
I put together a playlist on YouTube that features all my pitch design content and should be updated as I start to do more work with my pitch design sessions. Enjoy!
Pitch Breakdowns
Podcasts To Checkout
Work w/ Me
eBooks
Pitching Mechanics Breakdowns
Don't Miss These
Who is Robby Rowland?
My Throwing Content
Discounted Baseball Products
FOLLOW ME
Subscribe To My Podcast
Created By
Donations
Robby Row's PayPal 4 Donations