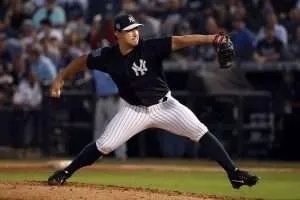 When it comes to the way I personally look at efficient lower body mechanics from a Pitcher I first see if the pitcher is efficiently applying force into the ground (ground force). The next part is what gets lost in my opinion. Just because we've applied force into the ground doesn't mean our job is done. We then want to look at how we are transferring said force. You'll see and hear in this video below Tommy Kahnle does an incredible job of force application + force transfer. Notice how he "sinks" his weight with the slope of the mound to maintain efficient force application until front foot strike. This is further elaborated on in the article Back Leg Ground Force + Throwing Velocity.
I see a lot of Pitchers lose sight on this concept. If you think you are one of them and you want to optimize your pitching mechanics to maximize velocity book a Mechanical Video Analysis today! If you know this is something you don't do well I'd encourage you to check out the article I wrote on Why I Could Long Toss 400 Ft But Not Break 93.
Kahnle's Lower Half Mechanics
CF Angle
Book your Mechanical Analysis today
Click Here To See an Analysis Preview
Feel free to Contact Me with any questions you may have!
Work With Me
eBooks Available For Purchase
Content Creation Products
Discounted Baseball Products
FOLLOW ME
Subscribe To My Podcast
Post Created By
Care to Donate to the cause?