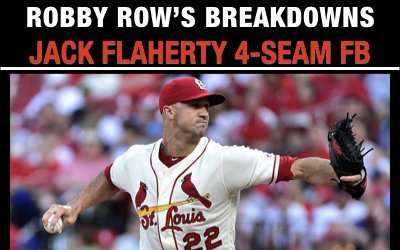 Love doing breakdowns on my close friends! Actually to be honest it's a little weird lol. Those who follow me know that Jack Flaherty are boys and often do Podcasts together.. so many podcasts together that I actually had to start a new segment called If It's Fair, It's Gone which I'd encourage you to checkout but I will warn you there's plenty episodes in which we don't talk a lick about Baseball lol. The first time Jack and I sat to do a Podcast together was during the 2018 season and I absolutely loved talking to him about his mindset of not thinking, trusting your preparation, and just being an athlete. Listen to that episode here
Jack Flaherty – Being an Athlete – The Robby Row Show Podcast 
During last years off season I had Jack on the Video Podcast (Inside The Baseball Mind) talking about his Pitch Repertoire and showing his grips. I will include the links to the entire segment we did somewhere below for you guys to checkout. But it was fascinating, and usually is always fascinating, to hear n see grips as well as mental cues from a fellow pitcher. Not even to mention a fellow Pitcher who will get plenty of Cy Young votes for 2019.
I dug into the data a bit for this breakdown and found some pretty cool numbers in which I'll include below in chart form. But first wanted to talk about my Pitch Grip Analysis eBook option that is available for purchase. You can hear me further elaborate on roughly 10 different pitches while I show grips and talk about mental cues when throwing a certain pitch.
Pitch Grip Analysis eBook
Purchase Here – Better understand 7 different Pitch Grips including Fastballs, Breaking Balls, and Changeups. Learn from not only me but MLB Pitchers on how to best go about throwing a specific pitch! 
Discount Code – "RobbyPitchGrip10" 
Jack Flaherty Fastball Breakdown

 
Full Episode w/ Jack
Interesting Fastball Data
Some of the interesting finds that I wanted to elaborate on are what I mentioned in the breakdown video above in that Jack's avg Perceived Velo is a tick higher because he's always been a guy who gets a ton of extension. Now I could be wrong but the only metric that I could find online would be Horizontal Release point. I was hoping to find a number in feet (and I know it's out there somewhere) but just couldn't find it. Here's the chart showing Horizontal Release Point + Spin Axis in Degrees.
Another find that is pretty frickin awesome if you ask me is his avg Fastball Velocity throughout the course of the 2019 Season and into playoffs. Now just knowing the type of competitor Jack is this doesn't really surprise me all too much lol.
Now taking a look at his usage of the 4-Seam Fastball throughout his young career I would say is normal because typically you'll see more confidence with the pitch as the velocity increases.
And last one is what I would call the true definition of "STUFF." And that's the ability to get Swing n Misses IN THE ZONE! I don't think you quite grasp the level of difficulty that is when you're facing the best of the very best on a nightly basis. Check it out..
Charts were taken from Baseball Savant and Brooks Baseball
No Copyright was intended for this breakdown
If It's Fair, It's Gone Episodes
Jack Flaherty – If It's Fair, It's Gone – Movies, TV Shows, and Candy
Jack Flaherty – If It's Fair, It's Gone – Jack's Day w/ Alex Rodriguez
Jack Flaherty – If It's Fair, It's Gone – Spring Training Mentality
Jack Flaherty – If It's Fair, It's Gone – Avengers Edition 
Jack Flaherty – If It's Fair, It's Gone – In n Out vs Chick Fil A
Jack Flaherty – If It's Fair It's Gone – Best Movies of 2018
Jack Flaherty – If It's Fair, It's Gone – Does Jack Get Nervous?
Jack Flaherty – If It's Fair, It's Gone – Avengers Recap, Jack Can Hit, and NBA
Jack Flaherty – If It's Fair, It's Gone – College Bball + Shoe Companies
Jack Flaherty – If It's Fair, It's Gone – MLB Is Exciting, Market It That Way 
eBooks Available For Purchase
Common Mechanical Breakdown on The Mound eBook
Plyo Ball Drills + Routines eBook
Online Pitching Coach Options
Pitch Grip Analysis Consultation
Discounted Baseball Products
Subscribe To My Podcast
Also Available On
Created By
Care to Donate to the cause?
Robby Row's PayPal 4 Donations
Click below to find me on other platforms!