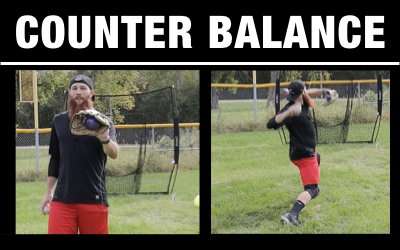 For most of you who have followed me for some time you know that i'm a huge advocate for the utilization of "Counter Balances" and today I'll break down why.
There's multiple reasons why I love incorporating Counter Balances with my Clients and even in my own personal training. I have seen really good results when talking about Patterning the Arm and Instilling Efficient Throwing Patterns. To find out if Counter Balances are the right tool implementation for you I'd encourage you to sign up for an Analysis and get working on maximizing your delivery! 
To give you more context on this topic I'd encourage you to check out the following Blogs:
Instilling Efficient Throwing Patterns
Correcting Inefficient Arm Path
Here's a couple videos talking about the usage of Counter Balances to give you guys an even better idea on the topic. I have seen Counter Balances correct a lot of inefficient patterns in the delivery as stated in the blogs above. But I also have seen it clean up lower half mechanics and even help aid into a drastic velocity increase!
4 Lb Counter Balance + No Counter Balance
What Do You See?
Counter Balance Adds Stability
Counter Balance Aids In Efficiency – Example
In this video you'll see me getting some Plyo Ball throws in using a Counter Balance. Sam and I were just talking about how the glove arm dictates direction. He notices when I throw with a Counter Balance that I sync up and create more linear energy as opposed to not throwing with a Counter Balance.
Like I said I have seen great results in the utilization of Counter Balances. As Pitchers we want biomechanical efficiency for obvious reasons.. the question then becomes how to achieve that. The most important thing to take from this is just because you have a great tool to work with.. don't think you just need a couple sessions and you're good. This is exactly what happened with one of my Clients and I wrote about in Correcting Inefficient Arm Path.
QUESTIONS?
eBooks Available For Purchase
A Common Mechanical Breakdown eBook
Plyo Ball Drills + Routines eBook
Online Pitching Coach Options
Pitch Grip Analysis Consultation
Discounted Baseball Products
Subscribe To My Podcast
Also Available On
Created By
Care to Donate to the cause?
Robby Row's PayPal 4 Donations
Click below to find me on other platforms!