The Robby Blog
Stories and Advice from Robby.
Today we'll take a look at Lucas Giolito's Changeup and why it's been such an effective pitch for the All-Star right hander. We'll hear from Giolito himself on how he holds the pitch and what he's trying to accomplish when he throws it. I'll include some...
read more
Well what the heck.. We all know that Velocity is an absolute must in order to be a good Pitcher, right!?... If we know that then why is the MLB ERA Leader averaging 90 MPH on his Fastball? Shouldn't he not be doing good? Actually, shouldn't he not have a job...
read more
For the average Baseball Fan you've recognized the season Lucas Giolito is putting together thus far in 2019.. On the verge of being labeled a "bust" he went thru a complete overhaul of his arm path as highlighted here that has led to a dominating year so far. Today I...
read more
I'm literally going to "Geek-Out" so flipping hard on this one.. It's gonna get weird. Put your thinking cap on. Oh man... Where do I even start with this one. I guess it's only appropriate to start this by saying Baseball is a beautiful game. It truly is...
read more
Wanted to give you guys a little preview of what my Pitching Mechanics Analysis Service looks like! Obviously it varies per individual but it highlights the importance of first identifying any deficiencies that you may have. Enjoy! Book your analysis...
read more
Love these matchups! Phenomenal dude at the dish.. phenomenal dude on the bump.. I encourage you next time you sit to watch a ball game to start really trying to identify how Pitchers are trying to setup the Hitters. You can learn a lot I'm telling ya! ...
read more
Who doesn't love when the game brings us matchups like this. Chris Paddack vs Cody Bellinger.  Rookie Phenom Pitcher vs League Leading Hitter! Watch how Chris Paddack sequences these 3 pitches to make it extremely tough on Cody Bellinger. Paddack...
read more
One huge aspect about being a Pitcher is that sometimes you do everything right and don't get rewarded. We just call it Baseball! Sometimes a hitter smashes a ball but it goes right at someone.. Happens.  You'll see deGrom execute a really good 2-2 Changeup...
read more
If you want to dive further into this topic with me to help you develop a process then let's get to work! Book your CONSULTATION today! Sign up for a Mechanical Analysis today! Like This? Checkout These Pitching Talks Developing Routines Velocity...
read more
"How do I go about locking in mentally for a game?" Today I'll touch on how to go about getting Mentally Locked In for a game. The biggest thing to take from this talk is, again, everyone is going to be different in how they go about this process. As...
read more
Today we're going to talk about execution while identifying the particular sequence. First I'm going to show you the video clip then I'll break it down. I encourage you to read below the video to get a better understanding of what we're searching for. If you're in the...
read more
Seeking out information is absolutely fantastic and I will always encourage it but at the same time you will do yourself a disservice if you're constantly trying to change more n more things. This is such a fine line and I really hope that I don't come off like I'm...
read more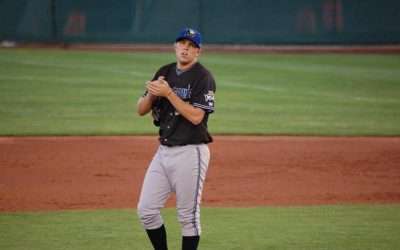 Apologies for rambling – I wrote this in the airport with like 10 minutes to spare before a flight lol. (double shot espresso) What do you do when you fail? What is there to fall back on? I think these are questions that i never really prepared myself for when I got...
read more
Hey guys, this was a blog post I wrote awhile back for a separate website but thought I'd share with you! My faith is my most important part of me. Without my faith, I am lost in a constant identity battle. Robby Rowland Guest Post For TAA Hello all my name is Robby...
read more
Purchase Baseball Products/Tools with My Discount  View my routines Driveline Plyocare Routine Warm-Up Routine Long Toss Routine Throwing Alone Routine Online Pitching Coach Options Mechanical Video Analysis Monthly Coaching Plans Pitch...
read more
Why do I believe in these bell clubs so much? I want to be very clear here. You'll hear me say the exact same thing in the video below but I want to make sure I get this point across. I am in no way shape or form saying that Bell Clubs will definitely...
read more
Oates Specialties Products - Discount "Robby10" My Favorite Products Connection Ball Tap Weighted Balls Throwing Club Bell Clubs Resistance Bands Shoulder Tube Wrist Weights Training Sock Plyo Mat Kettle Bells Arm Health Bundle ...
read more
Check out the latest podcast