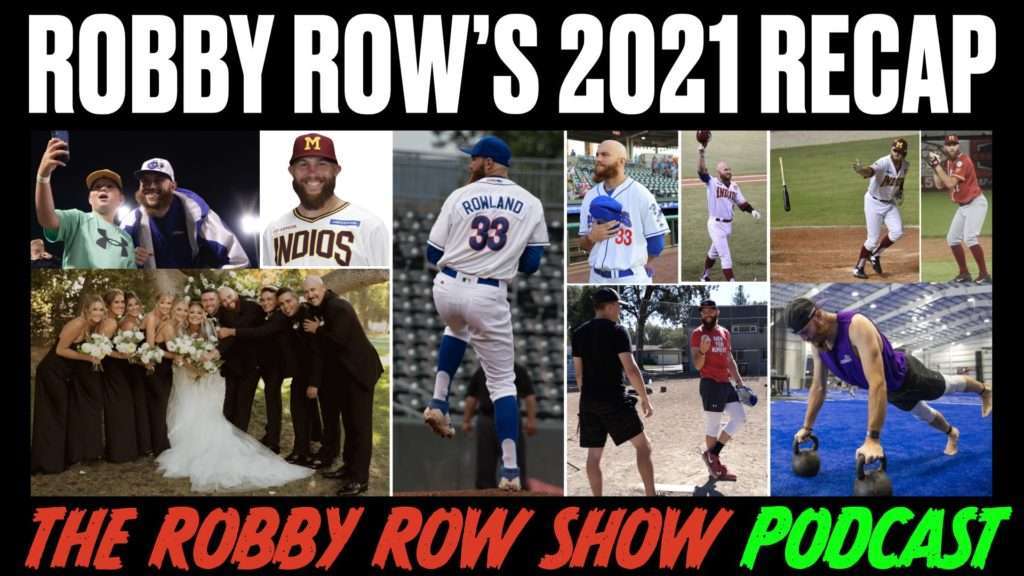 Today's episode of The Robby Row Show Baseball Podcast features a complete recap of the entire 2021 year highlighting my personal journey thru life and baseball during what was a year full of new experiences, a lot of baseball, balance, covid, travel, friendships, frustration, growth, development, and turning 30 years old lol. Here you will find a brand new podcast breaking down the entire year as well as content highlights from my favorite moments from this past year that can be found below. Hope you enjoy!
Links 4 Your Consideration
More Ways To Listen
Links From Episode
Get To Know Your Host
HERE'S WHAT WE GOT..
January
Covid Outbreak in Puerto Rico
Winterball Recap Podcast
Potential Affiliated Job Opportunities

 
February
Jobs Fall Thru
Structuring My "Off-Season"
Plans For The Future
March
R&R Period
Adjusting Throwing Volume
Throwing By Myself
April
Building To Be a Starter
Simulating Games By Myself
Prep Work For Upcoming Season
May
Signing w/ Lake Erie Crushers
Road Trip Vlog
Mic'd Up Start Day
Season Debut w/ Lake Erie
June
Start Day Vlog on The Road
Injury vs. SI Miners + Vlog
Shut Down + Rehab Process Vlogs
July

 
Finding Purpose While on DL Vlog
Getting Released + Finding New Team
How Quickly Things Change Vlog
August
NY Boulders Season Debut in Canada
Outing Breakdowns + Vlogs w/ New Team
Back on The Starting Pitcher Routine
September
Last Start Best Start on 9/11
Road Trip Home For Best Friends Wedding
Season Reflection + Starting Winterball Prep
October
Prep Work w/ Harmless Content
Live ABs

 

Building Harms Brand w/ Quality Content
November

 
Left For Puerto Rico + Vlog Episode
Puerto Rico Life Vlog
1st Outing + 1st Save
December
Covid Outbreak on 30th Birthday
All-Star Game Content
How My Dream of Hitting in a Game Came True
And Here We Are…
Reflection of 2021 on the last day of 2021